Testimonials
Broken Patella fixation - Dr. Volkan Guzel - Patient Testimonial
6 weeks post Hip Replacement
6 weeks post Left Distal Radius Fracture Fixation- Dr. Volkan Guzel Patient Testimonial
Meniscus Knee Surgery - Dr. Volkan Guzel Patient Testimonial
2 weeks Post Hip Replacement Patient Testimonial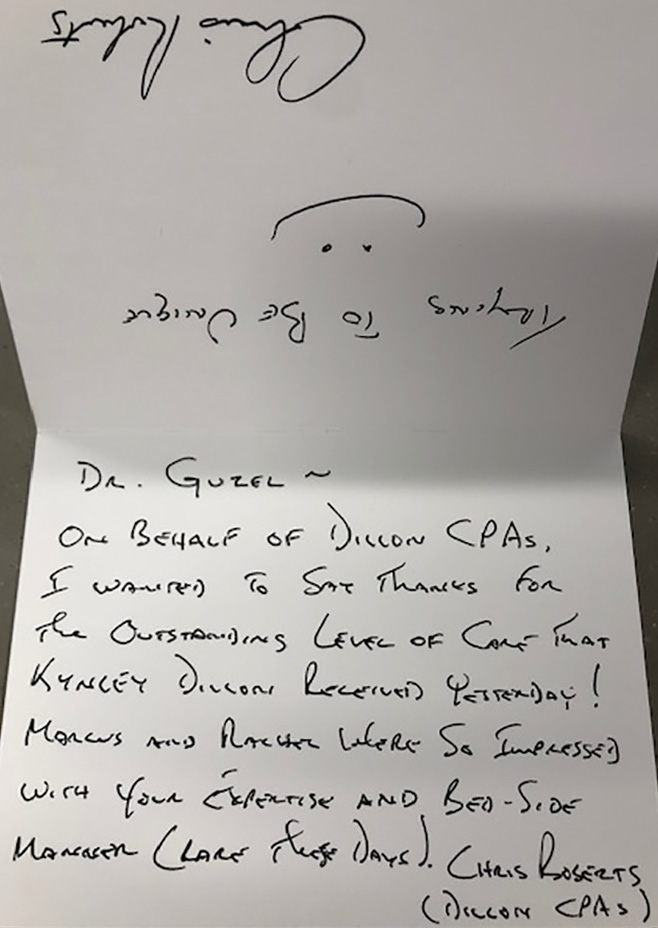 A huge thank you to Prime Orthopedics... Dr.Volkin Guzel for making this possible!!
Chase and Connor are Freshman at Katy High School and are part of the football team. Earlier in their freshman season Connor had a meniscal tear In His Right Knee and his freshman season ended with surgery after only 4 games. Dr. Guzel performed surgery on him and shaved off a large piece of his lateral meniscus. Within 2-3 weeks Connor was aggressively doing Rehab at school with PT under Dr. Guzel's direction. Long story short.
Connor was moved to Varsity and was able to contribute to the Katy Tigers State championship! Chase broke his hand but wanted to continue playing Running Back. After a conversation with Dr. Guzel it was decided he could continue playing with a hard cast. He did and also was pulled up to Varsity and ran for about 200 yards and scored his first varsity TD. Thank you Dr. Guzel for helping give these twins the opportunity to excel in a sport they love.
Put on there..... Thank Dr G for being on my speed dial!!
Would recommend without hesitation, Prime Orthopedics.. Dr. Volkin Guzel, M.D.
Michael Johnsey, D.C.
A patient after knee replacement riding his horse and his bike.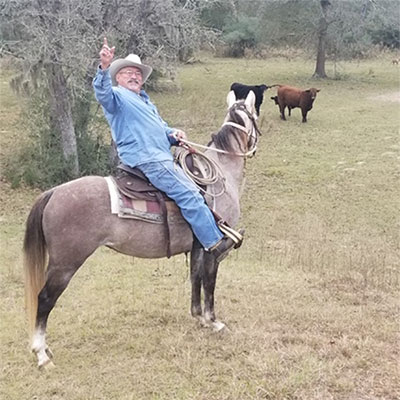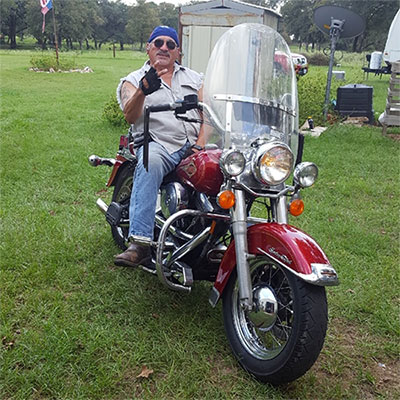 Dr. Guzel has been magnificent! Love the attention he gave myself and my leg. I had ACL and Meniscus surgery done by Dr and his positive attitude pushed me to better myself! He encouraged me that I am stronger than I think. Would recommend to anyone! Really really great!
Hussein Kadibhai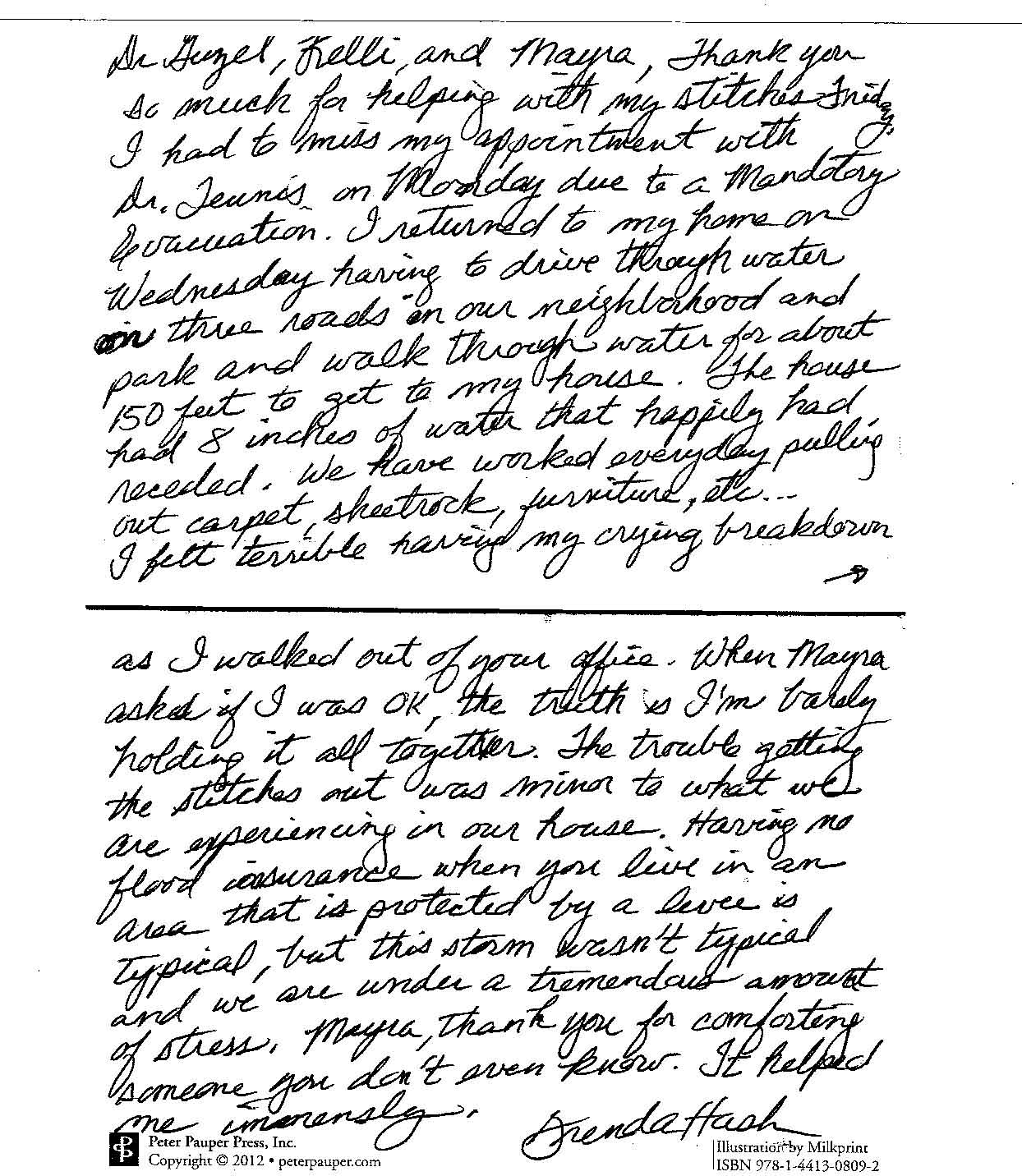 Prior to the surgery I was in a lot of pain and the worst was at night and caused me to be unable to sleep without waking up several times. I am right handed and use a computer all day, so by the end of the day my shoulder was always sore and I really did not want to engage in any activities like playing the piano or painting in my free time.
I was not referred to Dr. Guzel by anyone, but I wanted a doctor who was close to my home and so I came to the Katy clinic. I really appreciated that the office could take X-rays on site and I was never kept waiting for a long period of time.
After the surgery, I could tell right after the surgery that my shoulder was more stable and that when it healed it would be like new. I sailed through physical therapy and my shoulder got stronger by the day with normal use. There is nothing that I can't do and even the strength in my hand has come back. My experience has encouraged others that I know to move toward getting the surgery as well.
am really grateful for Dr. Guzel for his treatment of my rotator cuff and for his level of professionalism and skill. I highly recommend him and to Richmond Bone & Joint Clinic when talking to my friends.
Dawn Alvarez
Before seeing Dr. Guzel, I had extreme pain in the hip, groin and down leg to knee. I could only walk a few feet without experiencing so much pain that I had to find a place to sit for a few minutes. If I couldn't find a place to rest a few minutes I would break out in a cold sweat. I have had three back surgeries and this pain was more intense than I can remember before or after back surgery.
Dr. Guzel asked many questions. His manner was very soft and I felt instantly comfortable. He was about the 4th Dr. I had seen with this current problem but the first one to make it his responsibility to find out just what the problem was.
Dr. Guzel referred to Dr. Canon, the pain specialist. He independently looked at all my tests results and decided he could help me. I was so worn down from pain that I asked that I not be asked to wait another two weeks to get the pain injection and they worked me into their schedule that day which made a long day for them. I was anxious to have a life again. I did not enjoy staying in the house looking out the window watching the world go by and wonder will I always have this pain.
Since I received the pain injections, my mobility has improved 90%. I can stand straight and walk and not once think will I be able to make it to where I am going. I don't even think about the pain with each step. The quality of life is worth living. I love gardening and now I appreciate so much being able to work in my flowerbeds listening to the birds and smelling the fragrance of spring. My problem now is overdoing. I haven't felt this able since 2005. This problem not only affected my hip & leg but other parts of my body. I truly thought I was just getting old and lazy but now I know that is not true. I have zest for life again. We will start to travel again.
I know that sounds dramatic, but if it were not for Dr. Guzel, I would still be lying around watching others enjoy their life thinking there is no hope. They not only gave me hope but gave me a solution.
It took a few months to find this compassionate Dr but thank God I did. He was truly interested in finding out why I hurt so much and not in a hurry to operate. As I have told many friends and family, I will look no further when I have a problem in their area of expertise.
Carol Metz
I was in a lot of pain from a previous injury in 1980, after walking or standing I could feel my ankle grinding at the joint. There were times I could not even walk. After the ankle fusion I feel wonderful, I have no problems walking. Dr. Güzel is very thoughtful, listens well and really knows his stuff!!!
Michael Ricks
In November of 2009, my son Justin broke his left fibula during a varsity Seven Lakes High School. He went to Richmond Bone & Joint Clinic and saw Dr. Guzel.
Dr. Guzel was very knowledgeable and accessible. He had a great bedside manner. Since the repair of his fracture, Justin is almost 100% back.
It was such a great feeling that Richmond Bone & Joint Clinic offers all the necessary services under one roof. The staff at RBJC is very polite and super friendly! I've recommended Dr. Guzel to friends and family many times.
Kevin Pishkar
I was in extreme pain before my total hip replacement. My mobility was limited to short distances with the use of a walker or a cane. I could not walk without assistance and I was unable to do anything that makes life worthwhile.
Within one month of having a total hip replacement, I was no longer using a cane or a walker. I am still building up my endurance and balance but I can walk anywhere on my own.
Dr. Guzel is my personal angel. I have my life back or maybe an entire new life!! My recovery from surgery was quick and pain was minimal, a lot of that has to be due to Dr. Guzel's skills!!
Nelda Herrington
While visiting Houston one weekend, my cast got wet. I didn't know where to go, but discovered that Richmond Bone & Joint Clinic had weekend hours. It was so convenient!
I thought the staff was all very friendly and respectful. I showed up with my 4.5 year-old energetic daughter in tow, and everyone was very patient with us. I was treated in a timely manner, and I didn't even have an appointment! It was a great experience all around. I thought the front desk staff checking patients in and the cast technician were fantastic!
Dr. Guzel was very kind, funny and had a great bedside manner. He made me feel very comfortable and was thorough in explaining my options of replacing my cast vs. using the cam boot. His explanations of my injury were informative-yet were put in a manner which I could understand. I liked him better than my doctor in Austin! I have already referred him to some friends that live in the Houston area, and I hope they take me up on the recommendation. We had such a great experience there!!!
Giovana McGettrick
While playing tennis, I tore my ACL. The injury was painful enough, but more than the pain, I was really afraid that I would never have my active lifestyle back. Luckily, I was referred to Dr. Guzel and the Richmond Bone and Joint clinic. I was able to get an appointment very quickly. Dr. Guzel was friendly and professional, and counseled me in layman's terms about the available options to repair my knee. I was able to schedule surgery and begin rehab almost immediately. Today, I am not only back on the tennis court, but I recently finished my first triathlon. With my new ACL, I hope to complete many more. Thanks to Dr. Guzel.
Kristine J. Hilger
On June 14th 2009, I was admitted to Saint Christus Hospital emergency room with a serious injury to my left ankle due to an accident while playing soccer. I was in so much pain and I was so worried about my wife and children and how I would be able to support them with this injury. I did not know what to do or what to expect from the results at the hospital. Once admitted to the emergency room, Dr. Guzel diagnosed the injuries to my foot and gave me some promising news right away; he said I would be back on my feet again in one month and that I would also be able to play soccer again. He informed me of the procedure and of the therapy afterward to recuperate. In faith, I was certain that he would be able to fix my foot. After the surgery Dr. Guzel told me that the procedure was successful and that now I had to remain off of my foot and let it heal. In short I began my recovery and continued my therapy; it was an uphill struggle. Since my operation I have continued recovering, started working again, continued to play soccer and have since won soccer championships playing. My wife, children and I are so thankful for Dr. Guzel's and his staff at Richmond Bone and Joint Clinic. We cannot thank you enough for your dedication and excellent service. Thank you!
Mr. Berik Altayev and Family
During our Christmas snowboarding trip, my 14-year-old son caught air and managed to land on his right clavicle causing a convoluted fracture. Dr. Guzel placed a titanium plate and seven titanium screws in my son's right clavicle in January 2010. This was a very taxing experience as my son was restricted from participating in basketball, soccer and spring football. However, he built himself up with swimming through the summer and was playing football by the fall of 2010. We were extremely pleased with Dr. Guzel's expertise, compassion and patience throughout our experience. My son received the Most Valuable Offensive Player of the Year Award as a freshman at Cypress Ranch High School in 2010. Dr. Guzel's superb results definitely warrant our recommendations to anyone in need of his services.
Cynthia Cruz MS, BSN, RN
Prior to the surgery I was in a lot of pain and the worst was at night and caused me to be unable to sleep without waking up
After having 3 surgeries on my left knee from a different doctor, I always had pain and trouble walking. Since Dr. Güzel revised my left knee replacement I am able to bend my knee and walk better without any pain.
Dr. Guzel explained my situation to me very well. Everyone that works in the clinic is very nice and special!
I would recommend Dr. Guzel and RBJC to anyone that has joint problems!
Josie Medina
After almost two years of various treatments and excruciating exercises to "fix" my arthritic hip, I found Dr. Volkan Guzel! I could not wait for him to autograph and "arrow-up" my right hip to totally and completely remove all the bad stuff that was creating daily pain. I am 62 going on 21! Thanks, Dr. Guzel!
Diane Sturman